Gordon State BCM is the Baptist Collegiate Ministry of Gordon State College of Barnesville, Ga. We exist to equip students at Gordon State College to share the gospel on campus and around the globe. We are not a church, but are supported by the cooperative effort of churches in both the Centennial Baptist Association and the Georgia Baptist Mission Board. Our goal is to lead students to Christ and connect them with His Church.

Common Ground is a weekly worship gathering for students and young adults hosted by Thrive Young Adult Ministries at FBC Barnesville.
Need a ride to church? The Lift Team is here to serve you!
The FBC Barnesville church bus will pick up students every week at 6:30p at the Village dorms and will return you back to campus at 8:30p. This is a FREE service to Gordon State College students. First Baptist of Barnesville is located at 200 Zebulon. St and less than a mile away from the campus. To contact the church, feel free to call 770-358-2353.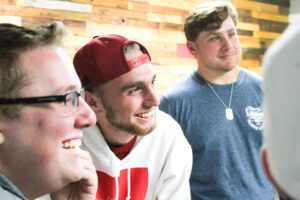 TO LEARN MORE ABOUT THRIVE YOUNG ADULT MINISTRIES CLICK ON THE LINK:
TO LEARN MORE ABOUT COMMON GROUND PLEASE CLICK ON THE LINK BELOW:
TO LEARN MORE ABOUT FBC BARNESVILLE FOLLOW THE LINK BELOW:
we've got some pretty great friends
Gordon State BCM Alumni, we'd love to connect with you!
Follow the link below to get connected with us!